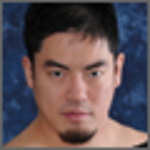 December 19, 2010 - BJW - Yokohama Japan
Date:
December 19, 2010
Place:
Yokohama Bunkataiikukan - Fukuoka Japan
Attendance:
2952 (Full House!)
1. Atsushi Ohashi & Ryuichi Kawakami (W) def. Takumi Tsukamoto & Kazuki Hashimoto (L) at 10:16 - Kataebigatame via Despare Bomb
2. Benkei Daikokubo & Onryo (W) def. Masato Inaba (L) & Yuichi Taniguchi at 8:09 via Onryo Clutch
3. * Barbed Wire Boards 6 Man Tag Death Match *
Takashi Sasaki, Shadow WX (W), Kankuro Hoshino def. Yuko Miyamoto, Shinobu (L), Isami Kodaka at 14:01 Pin Fall via Lariat
4. * Strong BJ Tag Match *
Daisuke Sekimoto (W) & Shuji Ishikawa def. Shinya Ishikawa (L) & Yuji Okabayashi at 15:41 via German Suplex Hold
5. * Triple Main Event I - Ladder Death Match*
Jun Kasai (W) def. Masashi Takeda (L) at 14:01 Pin Fall via Suichokurakkashiki Reverse Tiger Driver
6. * Triple Main Event II - ETC Deathmatch *
Yoshihito Sasaki (W) def. Kokutenshi Jaki Numazawa at 12:22 Kataebigatame via Lariat
7. * Triple Main Event III *
BJW Death Match Heavyweight Championship Match - 450 Light Tubes Fluorescent Light Bulbs Death Match
Ryuji Ito (W) def. Abdullah Kobayashi at 20:33 via Dragon Splash With Light Tubes
This event was extremely over with both its fans in attendance and the Japanese puroresu press. A fortunate full house at Yokohama Cultural Gymnasium was treated to a great show with triple main events. Moreover, tt earned several full color pages of coverage in BBM Baseball Magazine Sha published Shukan Puroresu (Weekly Pro Wrestling). We might see if we can put up a couple scans on our Facebook page or blog. Check them out if you get a chance.
VIDEO CLIPS OF BJW ARE HERE
http://www.youtube.com/user/BigJapanShop
B.J.W.
BJPW
BJW